Italian spirits have basked in the spotlight for several years now thanks to the resurgence of the classic Negroni cocktail. Gin has been in vogue for several years and vermouth is sort of an under the radar favorite among cocktail enthusiasts but the classic Italian aperitivo Campari has hit new heights in the age of the amaro renaissance. The bitter red liqueur has been mentioned in movies and displayed prominently and proudly in bars across the country. But Campari isn't the be-all end-all. While we firmly believe that a bottle of Campari is deserving of a near-permanent space on your bar cart, we also think there are some even better alternatives and substitutes for Campari. Below you'll find our favorite picks to swap in for Campari. As a brief note, Aperol is often mentioned as a worthy substitute. And while Aperol is perfectly fine, we preferred to opt for some less well-known suggestions.


History of Campari
Campari was invented in 1860 by one Gaspare Campari in Novara, Italy. Classified as an aperitivo, this bright red liqueur falls under the broad category of amaro, a distinctly Italian spirit that is predominantly bitter. Of course, Campari's defining character is really its vibrant red color, which was originally derived from using carmine dye. But, the slightly bittersweet, herbaceous flavor is just as critical to the Campari experience. That being said, the Campari recipe is a closely guarded secret. As with any amaro, the flavor is a result of some combination of a number of herbs, botanicals, plants, and fruit.


How to Use Campari in Cocktails
Negroni
The cocktail that's perhaps synonymous with Campari has to be the negroni. Equal parts gin, sweet red vermouth, and Campari, this boozy, bitter cocktail is delicious and refreshing. While the other components simply call for some kind of gin or vermouth, Campari specifically is considered a fundamental component of this drink.



Americano
Ditch the gin from the negroni, add soda water, and boom you've got the Americano. Bubbly, bracing, and a fantastic summer drink. While it hasn't quite caught on stateside in the same way as the negroni, it's just as good of a showcase for Campari.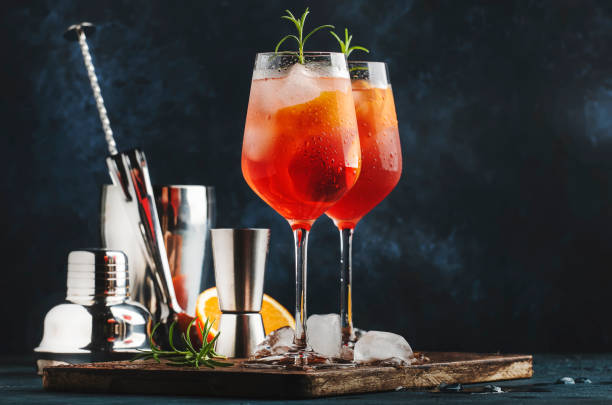 Campari Soda
Yet another Campari drink that isn't super popular in the US but is a classic beverage in Italy. The Campari soda is simple: Campari and soda. In fact, you can find pre-mixed bottles of Campari Soda in Italy.



On the Rocks
Campari is not much of a sipping drink but those who appreciate the bitter side of things should definitely try pouring a couple ounces of Campari over ice in a rocks glass.


The Best Campari Alternatives

Faccia Brutto Aperitivo
Brooklyn producer Faccia Brutto has been making some of the best modern Italian spirits. The brand's Aperitivo is a gorgeous red bitter liqueur that's perfect for spritzes, negroni, or wherever you'd like a splash of herbal bitterness.

Select Aperitivo
I've recommended Select as a worthy upgrade over Aperol for a long time. There's more complexity and the sweetness is seriously leveled off. As a result, I think it'd be a great alternative to Campari. Enjoy it in a spritz or with some soda water.
Aperitivo Cappelletti
Cappelletti is often used as a substitute for Campari but it differs from the liqueur because it's made with a wine base. Plus, Cappelletti's bright red color is all-natural and there's far less sweetness. Dry, bitter, and beautiful, Cappelletti is perfect for spritzes or negronis.

Forthave Spirits Red
Forthave is one of my favorite amaro makers here in the US. All of their products are refined, balanced, and delicious. The Forthave Red, in particular, is a step up from nearly every other commercial aperitivo. Try it on the rocks or use it in your favorite cocktail.

St. Agrestis Inferno Bitter
Inferno Bitter, an all-natural, fresh aperitivo from St. Agrestis, packs quite the punch. It's a fantastic liqueur that is great in a aperitivo soda but even better in a negroni.

Don Ciccio & Figli Luna Amara
Luna Amara comes courtesy of Washington, D.C.-based Don Ciccio & Figli, who have brought Italian amari and liqueurs stateside. The Luna Amara is a darker, richer color than most of the other selections here and features a lovely flavor balance of bitter herbs and sweet fruit notes. Mix into a negroni or a boulevardier.

St. George Spirits Bruto Americano
Bruto Americano from St. George Spirits brings a level of gravitas to the aperitivo experience. You'll find a healthy dose of spice notes along with a refreshing bitterness and citrus flavor. This might become your new favorite liqueur for negronis.

Contratto Bitter
Contratto Bitter might not be as old as Campari, but it's nearly as classic of an Italian spirit. Made from an Italian brandy base, you'll find restrained bitterness and a nuanced flavor profile. Plus that bright red color is downright gorgeous.

Amaro Montenegro
While the previous picks were all aperitivi, we thought we'd end with a couple of curveballs. Montenegro is considered more of a digestivo, but it happens to play very well in a negroni. You'll find a touch more sweetness as well as some stronger fruit notes. It might not offer the same refreshment of Campari, but it's a worthy alternative.

Cynar
Another amaro suggestion, Cynar is a dark, deep bitter liqueur that is a great option for your next negroni. Made with 13 herbs and spices, including artichoke leaves (hence the name: cynara is the scientific name for artichoke), Cynar is bittersweet with some caramel notes balancing out the herbal bitterness.